Webassign 8.4 Answers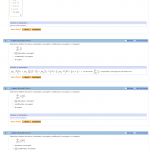 Step by step solutions:  2 3 4 5 6 8 10 11 12 13 14
1. What can you say about the series an in each of the following cases?
2. Test the series for convergence or divergence.
6. For what values of p is the following series convergent?
7. Determine whether the series is absolutely convergent, conditionally convergent, or divergent.
13. Determine whether the Ratio Test is inconclusive (that ism it fails to give a definite answer), conclusive (convergent), or conclusive (divergent) for each series.